Applications

Specialized Applications
Below are some examples of specialized applications of the System
---
Adjustable Wall Tie New Brickwork to Existing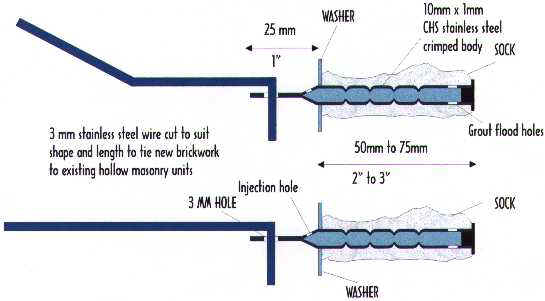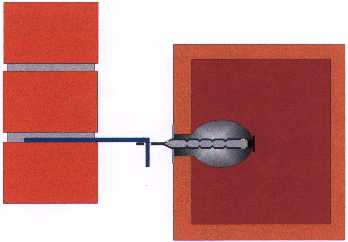 ---
Enhanced Fixing Technology for Terra Cotta and Hollow Masonry Units
| | |
| --- | --- |
| The CINTEC masonry anchor is inserted into a predrilled hole. | The injection equipment is attached to the masonry anchor and inflation commences under a pressure of 42PSI. |
| Grout is pumped into the hollow steel section which flows into the socked area via a number of flood holes | As the masonry anchor fills, grout milk flows through the sock creating a chemical bond between anchor and substrate. |
| After approximately 15 seconds the anchor is totally inflated with a micro fine concrete grout giving a mechanical fixing. In addition the grout milk has passed through the sock forming a chemical bond to the substrate. | In a test carried out by an independent laboratory on a building of similar material, axial pull results in excess of 3000lbs. were achieved. |
---
Stitching corner crack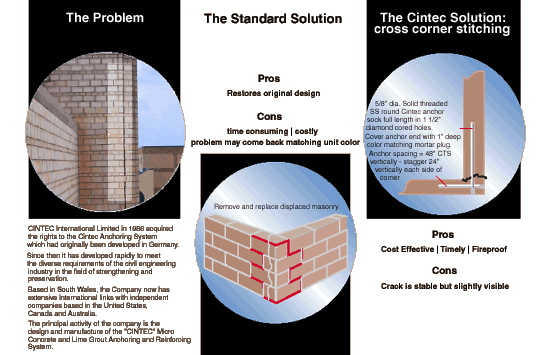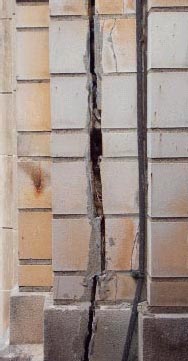 ---
Stud welded masonry retrofit anchoring system
The Prudential Building Chicago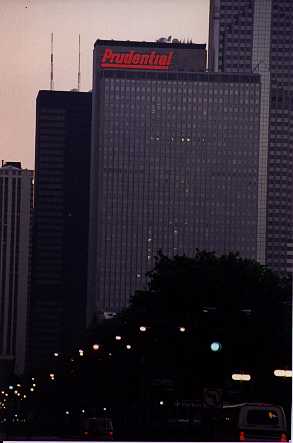 The Chicago Jewellery Exchange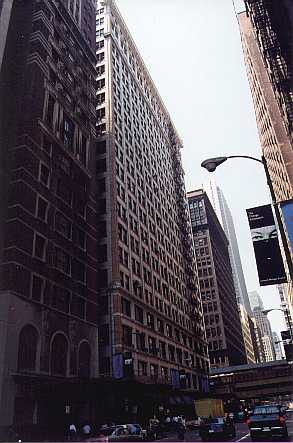 Designed to restore lateral tieback to the supporting steel frame, the Nelson stud-welded masonry retrofit anchor system has been successfully installed in repair applications to restore structural integrity to damaged or deteriorating masonry systems. Combining two diverse material technologies, Cintec™'s R&D department worked with Boyd Associates, Inc. to develop a masonry retrofit anchoring system that combines welded steel studs with the Cintec™ retrofit masonry anchoring system.
The system is installed by first drilling small holes through the masonry to the surface of the structural steel member. A separate bit is then used to lightly mill away any surface rust or buildup on the surface of the steel member. A threaded stud is then fusion welded onto the steel member using a special adapter mounted on the standard stud gun. Following stud installation, a standard Cintec™ masonry anchor with a special adapter is threaded onto the stud and completed in the standard manner.
This anchoring system has been used to restore ties to brick and terra cotta in situations which would have otherwise led to mare extensive and costly removal. Current applications have included both short term and permanent repair of masonry in which the original masonry tie materials were either missing or severely deteriorated. In situations where eventual removal may take place in the future, the threaded studs can remain as the permanent structural masonry tie for the new masonry.
Engineers for the Chicago Jewellery Exchange
Jon M. Boyd Consulting
Structural Engineer
Engineers for the Alternative Repair System to the Prudential Building
Simpson Gumpertz & Heger Inc.
Consulting Engineers
---
Wall Tie Replacement, Cardiff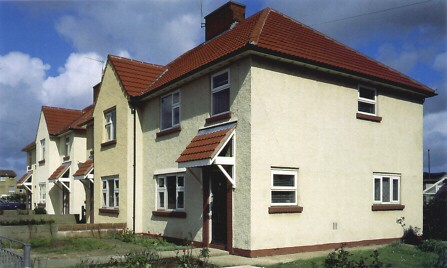 Black ash mortar was used in the construction of many houses in Cardiff and other regions in the United Kingdom. Ingress of moisture through the external brickwork leaf and mortar causes the formation of acidic agents which cause corrosion of the masonry ties. Particularly at risk from corrosion are the zinc-coated wall ties which have been traditionally employed in UK housing.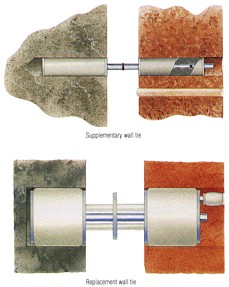 The Cintec™ RAD replacement masonry tie was specifically developed to overcome the problems associated with black ash mortar and masonry tie corrosion. Removal of the existing wall ties is the preferred solution because if the wall ties are bent-back further corrosion can lead to damage to the finishes on the internal skin of brickwork, due to the expansive forces caused by the corrosion.
The existing masonry ties were located using a metal detector. They were over-drilled using a 60mm diameter over-coring drill and removed. The 60mm diameter Cintec™ RAD anchor was installed based on 10 x 1mm CHS stainless steel section with socks at either end in the external and internal walls. Grout was injected under pressure and the external skin was made good to match the existing brickwork.