National Geographic Details CINTEC's Preservation of Egyptian Pyramid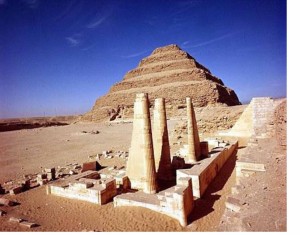 CINTEC Worldwide, a Structural masonry retrofit company, has been featured in the National Geographic documentary "Saving Egypt's Oldest Pyramid" for their restoration of the Pyramid of Djoser.
Cintec™ was called in by the Supreme Council of Egyptian Antiquities to prevent the collapse of the 4,600 – year-old Pyramid Djoser. The 200- foot- structure, commonly known today as the Step Pyramid, was built in the 27th Century B.C. for the burial of Pharaoh Djoser. A major earthquake in 1992 caused significant damage, resulting in the partial collapse of the burial chamber and leaving the pyramid's central chamber in danger of collapse.
CINTEC was selected to stabilize the pyramid because of its extensive experience in preserving historical landmarks. They have cemented their reputation worldwide with projects, which included Buckingham Palace, Windsor Castle, and the White House complex, as well as countless castles and churches. In Egypt alone, CINTEC has worked on 13 historic buildings in Cairo and the Red Pyramid near Giza.
"Though each project presents a different set of challenges, CINTEC uses solid engineering principles and creative thinking to develop effective restoration solutions," says Peter James, managing director of Cintec™ Worldwide. "We are very excited to have applied our expertise to the Step Pyramid project."
The company used its Waterwall technology, which consists of self-inflating air-filled bags, to prevent the collapse of the damaged ceiling. To strengthen the building's central chamber, the company used its patented anchoring and reinforcement system, designed to internally stabilize structures, while preserving their historical value and appearance.