Blast Window Retention Anchor Systems CINTEC America – Baltimore MD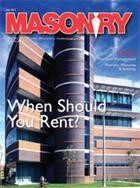 CINTEC American's Blast Window Retention Anchor Systems offer a customized solutions for each application and masonry substrate to provide maximum resistance to explosions. The system process begins with an inspection of the structure by qualified personnel. The structure is then modeled to assess the most likely response and the risk inherent to the structure, determining the best reinforcement pattern. At the site, the system, made of a steel bar enclosed in a mesh fabric sleeve, is inserted into the masonry, and then connected to the frames. A non-polymer, cementitious grout then is injected into the sleeve under low pressure. The grout fuses with the mesh, expands and shapes
itself around the steel to fit the space.