A Strong attachment to rail
Cintec™ International proudly helping to strengthen the UKs transport infrastructure
READ MORE –  Rail Professional Magazine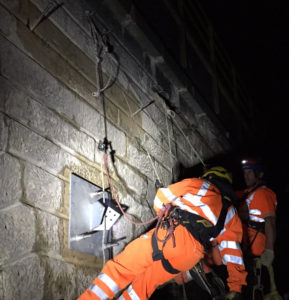 Newport-based structural engineering company, Cintec™ International, is helping a number of contractors involved in Network Rail's programme of electrification and improvement to the rail infrastructure across the length and breadth of the UK.
The work, which is essential to the electrification process, involves utilizing Cintec™'s patented anchoring system to support the weight of the gantries which will hold the cables needed to electrify the lines, and in some cases to strengthen railway bridges and viaducts to which the gantries are attached.
Projects include recently completed work on the Thames Link as part of the main line upgrade. This project on the Western Approach Signal Gantry (Cantilever Gantry No XTA1793) just outside London Bridge station demanded close cooperation with Lundy Projects and main contractors Balfour Beatty for reinforcing masonry and anchoring.
Cintec™ supplied and installed all the anchors for fixing the new gantries to the brickwork of the viaducts upon which they are placed as cantilevers over the railway lines.