Azerbaijan. Historic chimney in Baku will be at the heart of a new shopping complex thanks to the innovation of Newport firm Cintec™
READ MORE – Whales Online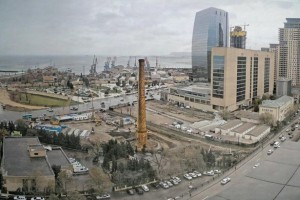 The historic chimney in Baku
A demolition-threatened historic chimney in the Azerbaijan capital of Baku will now be the centre point of a multi-million pound new shopping complex thanks to the innovation of a Newport-based structural engineering firm.
Cintec™ International has been commissioned to carry out complex structural preservation work on the chimney later this year in a £1m contract.
Built in the 1900s the feature as the focal point of a regeneration project to establish Baku as an up-and-coming centre of commerce and technology.
Original designs for the development, which will be called The Twin Towers of Port Baku, planned to have the chimney pulled down to make way for the modern shopping complex. However, when the President of Azerbaijan saw the plans he requested that the historical chimney be restored instead and become a central feature of the development.