Products

Isolation Units
Cargo Isolator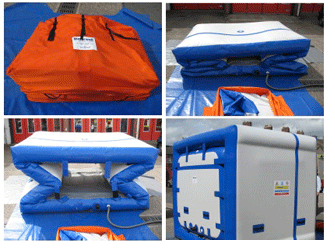 The Cargo isolator is designed to accept a piece of airfreight passing through a one-and-ahalf square metre (1.5m2) X-ray machine. In the event that a suspicious object is detected during routine pre-flight screening, the freight can be completely isolated on all six sides and moved if necessary to a remote location to await the arrival of the bomb squad.
This product pushes the boundaries of Waterwall technology and considerable attention and effort has been taken to ensure that the product remains completely stable at all stages of the operation.
Unlike the other products in the Waterwall range, an air-filled stability layer has been included in the design to increase the stiffness of the roof section enabling larger volumes to be accommodated. Alternatively the air stability layer could be filled with nitrogen to increase the effectiveness of the blast pressure mitigation.
Specifications
External Height – 2170mm/85"
External Width – 2840mm/111"
External Depth – 2170mm/85"
Internal Height – 1500mm/59"
Internal Width – 1500mm/59"
Internal Depth – 1500mm/59"
Wall Thickness – 335mm/13"
Water Volume – 9361 litres/2472 US Gal
Weight Empty – 134 Kgs/295 lbs
Weight Full – 9495 Kgs/20932 lbs
---
Ammunition & Container Isolation Panels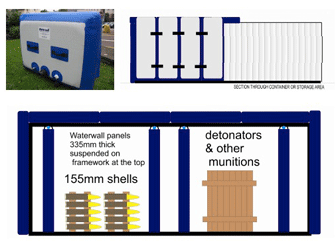 The Waterwall system can be used as single panels. Each comprising of a single or double panel supported at the top on a frame designed above the panel. Each panel comprises of a PVC coated internally reinforced fabric 335mm thick. The panels are individually pre-inflated with air and then water to form the desired thickness. Over inflation is controlled with pressure relief valves.
The use of water has been known for many years. Waterwall technology provides quick and responsive control for separation of incompatible munitions. The system is readily deployed both internally or externally or a combination of both. When not in use they can be emptied and stored flat pack for future use.
Specifications
---
'A' Frame System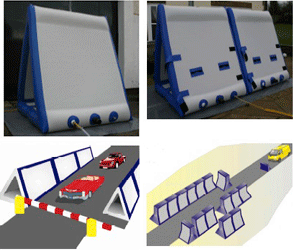 The Waterwall A Frame range of products are PVC coated and internally reinforced with pressure relief valves ensure that the units are not over inflated and to indicate when the walls are full of water. The 'A' frame Waterwall was designed to change the natural characteristics of water wanting to flow horizontally. The ground breaking technology allows water to be shaped and controlled and make it free standing 3 metres high. Its form was developed and tested to absorb and redirect the blast over pressure and fragmentation of large improvised devices such as vehicle bombs. Together with other security measures the object of the A frame is designed and tested to provide both protect and increased stand-off for valuable assets. The A frame can be positioned with relatively small footprints at point of entry or at a check point to provide a 3 metre high blast absorbing wall that has been tested to defeat a TNT equivalent of 250Kg (550 lbs) of high explosive.
The product is easily and quickly deployed during periods of heightened security and stored away flat pack when not in use.
Increased mechanical protection can be added using ballistic nylons to the outer walls which can be decorated with any logos or security messages that the client may desire.
Specifications
External Height – 1835mm/72"
External Width – 1540mm/60"
External Depth – 1500mm/59"
Wall Thickness – 200mm/8"
Water Volume – 1400 litres/370 US Gal
Weight Empty – 29 Kgs/64 lbs
Weight Full – 1429 Kgs/3150 lbs
---
Hexagon Wall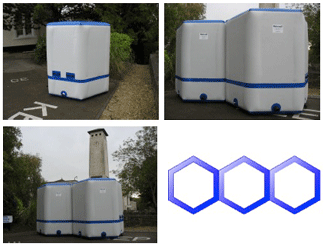 Waterwall Hexagon Isolation units are made from PVC coated 335mm internally reinforced material. Formed in the shape of a hexagon but with a seamless bottom thus making a container within a container. These units are designed to maximise the amount of water that can be used against used and deployed against large munitions up to 500kg (1,102 lbs).
The outer walls of the 3000mm high Hexagon unit is first inflated with air to provide the shape. Water is pumped into the walls until the pressure relief value is triggered to indicate full inflation. Free surface water is then pumped into the central area to fill the unit up to 2.5mt high. The outer walls will require stabilisation with ropes. The units are designed to be interconnected together to form hexagonal walls. This provides a mass of water that can shape and direct large explosions.
Specifications
External Height – 2940mm/116"
External Width – 3333mm/131"
External Depth – 3749mm/151"
Internal Height – 2940mm/116"
Internal Width – 2663mm/105"
Internal Depth – 3075mm/121"
Wall Thickness – 335mm/13"
Water Volume – 10237 litres/2704 US Gal
Weight Empty – 24 Kgs/53 lbs
Weight Full – 10261 Kgs/22622 lbs
Internal void water volume – 18067 litres/4773 US Gal
---
HARRI—Vehicle Isolator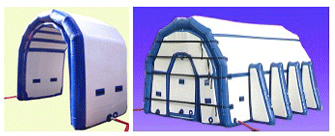 Cintec™ have under development a new system known as HARRI ( High Arch Rapid Reaction Isolator). This Waterwall is the largest in the Waterwall range of products. PVC coated and internally reinforced walls are designed to totally enclose a suspicious car or small van that has a suspected device. The product is totally supported on a pneumatic arch made from 335 mm thick material that is designed to carry the weight of an outer 335mm water filled chamber. Additional buttresses inflated with air are added to the outer walls to increase stability. End doors are fitted with standard 335 mm PVC material and are independently inflated with both air and water and allow for access to be maintained to the device. Pressure relief vales ensure that the unit is not over inflated.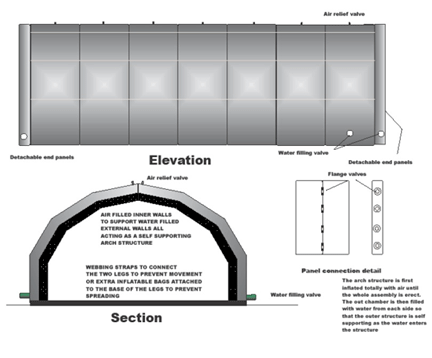 The product totally encloses the suspect vehicle but still allows access for robotic inspection activities. The current prototype is 3.5 metres high, 6 metres wide and 8 metres long. When fully erected the product is able to totally surround a suspicious vehicle with 12,000 litres of water. In the event of an explosion the Waterwall will give total all round protection of a high order detonation and will interfere with the broadcasting of the toxic elements and facilitate clean up.
Specifications
External Height – 3500mm/138"
External Width – 6000mm/236"
External Depth – 8000mm/315"
Wall Thickness – 335mm/13"
Water Volume – 12000 litres/3170 US Gal
Weight Empty – 300 Kgs/661 lbs
Weight Full – 12300 Kgs/27117 lbs